INNOVATIVE TREATMENTS FOR PATIENTS CARED FOR BY ENT AND ALLERGY SPECIALISTS
Breathing new life into
proven medicines.
We Are a Company
With a Clear Vision
As a specialty pharmaceutical company, Optinose is focused on developing and bringing to market products for patients who are treated by ear, nose, and throat (ENT) and allergy specialists. Our mission is to help you improve the quality of life of your patients. Our goal is to build a strong partnership with ENT and allergy specialists and provide you with tools, technologies, and treatment options that become part of the standard of care for diseases confronted in ENT and allergy specialty practices. Optinose is dedicated to innovation—starting with our unique Bi-Directional™ Exhalation Delivery Systems (EDS), the first technology we are developing for ENT and allergy specialists.
We Are a Company
With a Purpose
The Optinose team is unified by a common shared mission: to improve lives. We will accomplish this while creating value for investors and the healthcare system along with better outcomes for patients and providers. As innovators in every aspect of our work, we will pursue faster and less costly product development, explore evolving commercial business models, and actively seek innovative ways to be more effective and efficient. We are committed to working together as a team that chooses to live every day by core company values that guide our daily behaviors, creating a foundation for future success.
Introducing Exhalation
Delivery Systems
At Optinose, we are breaking through the conventional ways of thinking and doing. We are focused on value creation, starting with our work on a unique and novel drug delivery concept known as Bi-Directional Exhalation Delivery Systems. Our current efforts are centered on developing highly differentiated products for large, underserved markets where EDS technology could redefine the standard of care because it can deliver medication to where it's needed.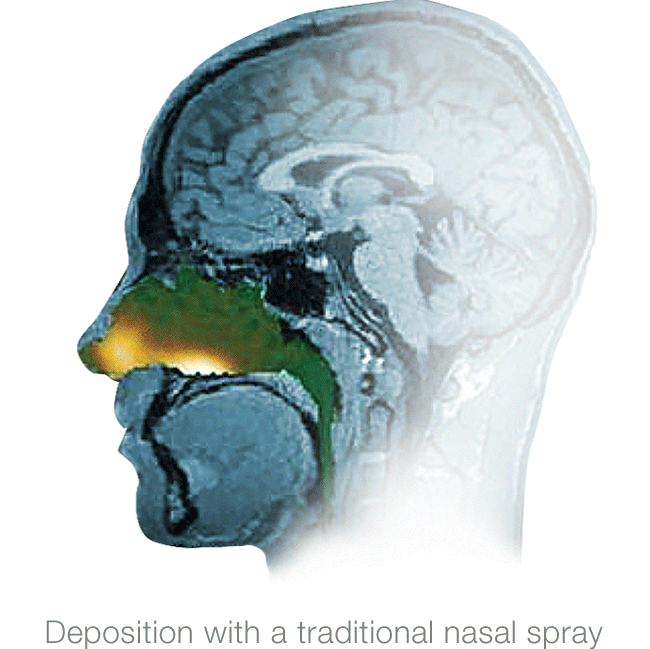 Gamma camera images after using a traditional nasal spray device or an Optinose Exhalation Delivery System. Both images are from the same subject and are representative of the overall findings from 211 images and 56 subjects. The clinical relevance of different deposition patterns has not been established.
Optinose's unique new Bi-Directional Exhalation Delivery Systems concept for liquids can increase delivery of liquid aerosol medication to sites high and deep in the nasal cavity.1
See How It Works
Optinose's first dry powder delivery system also relies on the Bi-Directional Exhalation Delivery System concept, and is presented as a reusable device that can be packaged along with a number of medication-containing nosepieces.
Take a Closer Look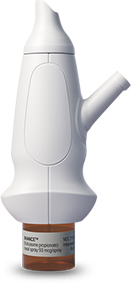 Our now-approved lead product, XHANCE® (fluticasone propionate), has the potential to become an important treatment option for patients who continue to have unmet needs despite the availability of multiple treatments.
The list of Optinose candidates currently being developed includes:
XHANCE for chronic sinusitis
We have also identified multiple follow-on pipeline candidates that we believe have outstanding potential to bring new clinical benefits to patients by virtue of our Bi-Directional Exhalation Delivery Systems.
Reference
[1] Soteres D, Messina J, Carothers J, et al. NAVIGATE I: a randomized, double-blind trial of an exhalation delivery system with fluticasone (EDS-FLU) for treatment of chronic rhinosinusitis with nasal polyps (CRSwNP). Poster session presented at: 2017 AAAAI Annual Meeting, March 3-6, 2017; Atlanta, GA.