Optinose Reports First Quarter 2018 Financial Results and Recent Operational Highlights
Optinose confirms retail pharmacy availability of XHANCE commenced in early April
Company reports more than 1,300 physicians have prescribed XHANCE through the Xperience program
YARDLEY, Pa., May 14, 2018 Optinose (NASDAQ:OPTN), a pharmaceutical company focused on patients treated by ear, nose and throat (ENT) and allergy specialists, today reported financial results for the quarter ended March 31, 2018, and provided recent operational highlights.
"I am pleased to report that XHANCE is now available in retail pharmacies following our commercial launch in early April," commented CEO Peter Miller. "We have achieved our initial objective with respect to creating brand awareness, we are making good progress with payer coverage, and we are encouraged by the early results for trial and adoption by physicians and the patients they treat. While we are pleased with the progress of our launch to date, we know that long-term success of XHANCE depends on successfully meeting the challenges ahead. Our team is focused on increasing the breadth and depth of prescribers, retaining patients beyond their initial trial phase, increasing the number of patients with "low-hassle" access to XHANCE, and on initiating a clinical program in the fourth quarter of 2018 in pursuit of an additional indication for XHANCE for the treatment of chronic sinusitis."
First Quarter and Recent Highlights
Commercialization of XHANCETM (fluticasone propionate) nasal spray 93mcg
Brand Awareness
The Company believes that a high level of product awareness will facilitate adoption. Therefore, multiple product awareness initiatives were undertaken in the months following product approval with multi-channel efforts directed at the ENT and allergy specialty audience. Based on our recent market research, aided brand awareness amongst ENT and allergy physicians is 87 percent, which achieves the Company's objective of 85 percent awareness during the launch phase.
Payer Coverage
Recognizing that insurance coverage is important to product acceptance and uptake, the Company has engaged with key pharmacy benefit managers (PBMs) and health plans estimated to represent over 80 percent of U.S. adult commercial lives. Based on currently available third-party data and our internal analyses, the Company believes approximately 74 percent of commercial lives are in a plan in which XHANCE is covered in a Tier 3 formulary position and approximately 61 percent of commercial lives are in a plan that covers XHANCE in a Tier 3 formulary position that is either unrestricted or requires a single step edit. Coverage includes commercial lives represented by two of the three largest PBMs in the U.S. Where permissible, the Company has implemented co-pay assistance and other patient affordability programs to further support patient access.
Sales Force
The Company has engaged approximately 80 sales personnel (through a contract sales organization) who have been trained on XHANCE and have begun interactions with targeted ENT and allergy specialists. These territory managers are deployed primarily in regions where commercial market access is expected to meet or exceed the Company's launch target of 65 percent. The Company anticipates its launch efforts will benefit from active transitions between previously deployed clinical nurse educators and new territory managers. The Company is prepared to flexibly expand the number of territory managers based on market access and experience in the marketplace.
XHANCE Xperience
In March 2018, Optinose introduced an innovative launch program, the XHANCE Xperience program, offering physicians and their patients an opportunity to gain initial experience with XHANCE. Physicians can enroll eligible patients in this program, and patients will receive up to two XHANCE prescriptions at no cost to them ($0 co-pay) while physicians will receive feedback on early patient responses to treatment. The Company believes this program will accelerate the ability of physicians to acquire positive patient treatment experiences and therefore improve demand for XHANCE during the early phases of product launch. The program launched on March 5, 2018, and as of May 4, 2018 more than 1,300 unique physicians have prescribed XHANCE and approximately 5,200 units have been dispensed to patients.
Additional Highlights
First Quarter 2018 Financial Results
Revenue
The Company generated $0.9 million in net revenue through the sales of XHANCE in the three-month period ended March 31, 2018. A large majority of the revenue corresponded with the stocking of the retail distribution channel, with a portion of the revenue related to XHANCE sales through the Xperience program.
Operating expenses and net loss
For the three-month period ended March 31, 2018, research and development expenses were $1.7 million and selling, general and administrative expenses totaled $28.0 million. Net loss for the period was $30.6 million, or $0.81 per share.
Cash
The Company had cash and cash equivalents of $209.8 million as of March 31, 2018.
Corporate Guidance
Research and development
In order to support a meeting planned for the next few months, Optinose has submitted questions and key elements of a draft protocol for a planned clinical trial program to the U.S. Food and Drug Administration (FDA). This program is planned in pursuit of the additional indication for XHANCE for "treatment of chronic sinusitis." Pending FDA feedback, the Company expects to initiate the clinical program in the fourth quarter of 2018.
Operating Expenses
The Company believes that total operating expenses (selling, general & administrative expenses and research & development expenses) for 2018 will be in the range of $119 – $125 million.
Financial
The Company believes its current cash and cash equivalents are sufficient to fund its operations and debt service obligations through the end of 2019.
Company to Host Conference Call
Members of the Company's leadership team will host a conference call and presentation to discuss financial results and corporate updates beginning at 8:00 a.m. Eastern Time today.
To participate on the conference call, please dial (866) 916-4761 from the U.S. or +1 (409) 216-6496 from outside the U.S. In addition, following the completion of the call, a telephone replay will be accessible until May 21, 2018 by dialing (855) 859-2056 from the U.S. or +1 (404) 537-3406 from outside the U.S. and entering conference ID # 6968158. A simultaneous webcast of the call and presentation can be accessed by visiting the Investors section of Optinose's website at www.optinose.com. In addition, a replay of the webcast will be available on the Company website for 60 days following the event.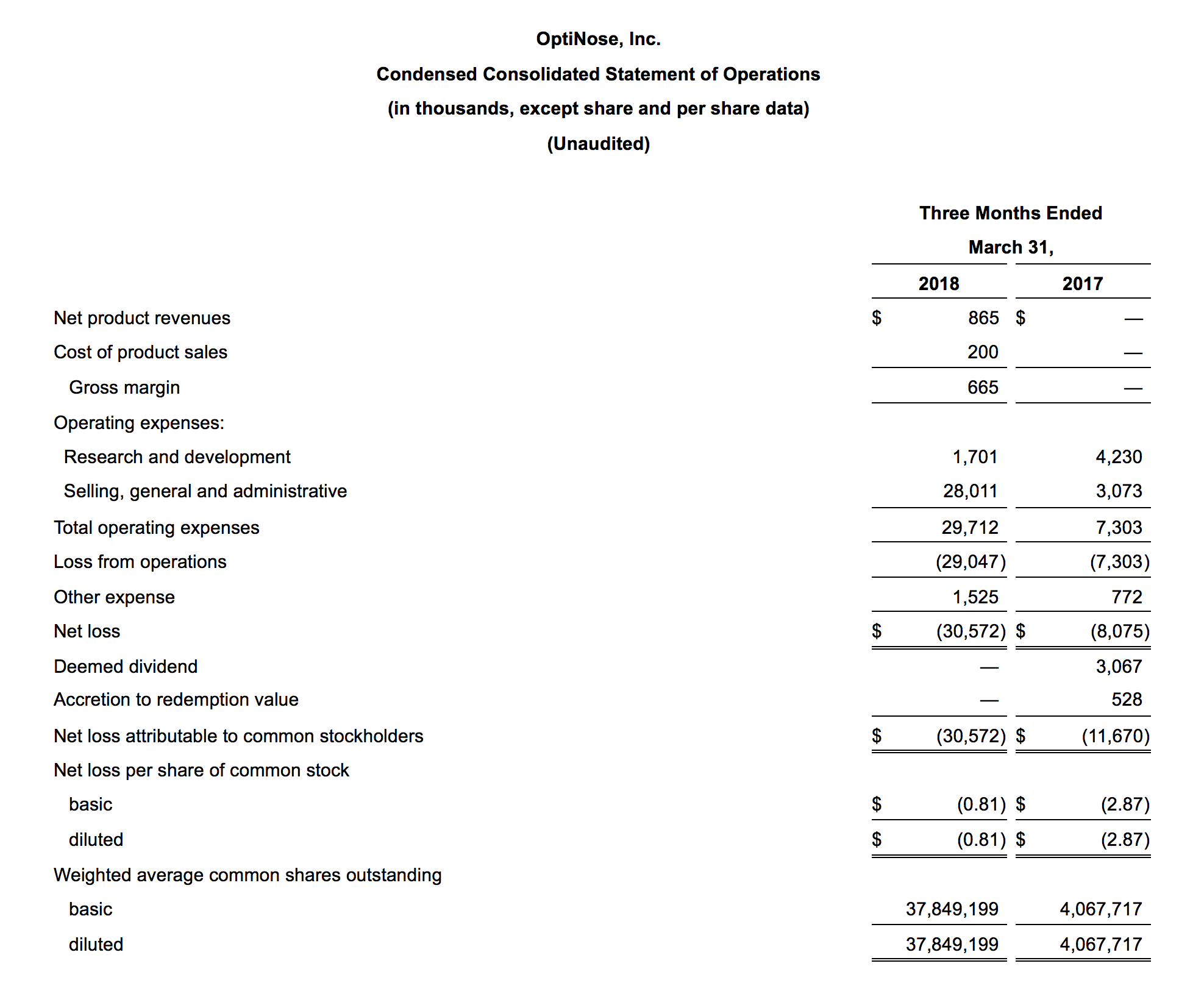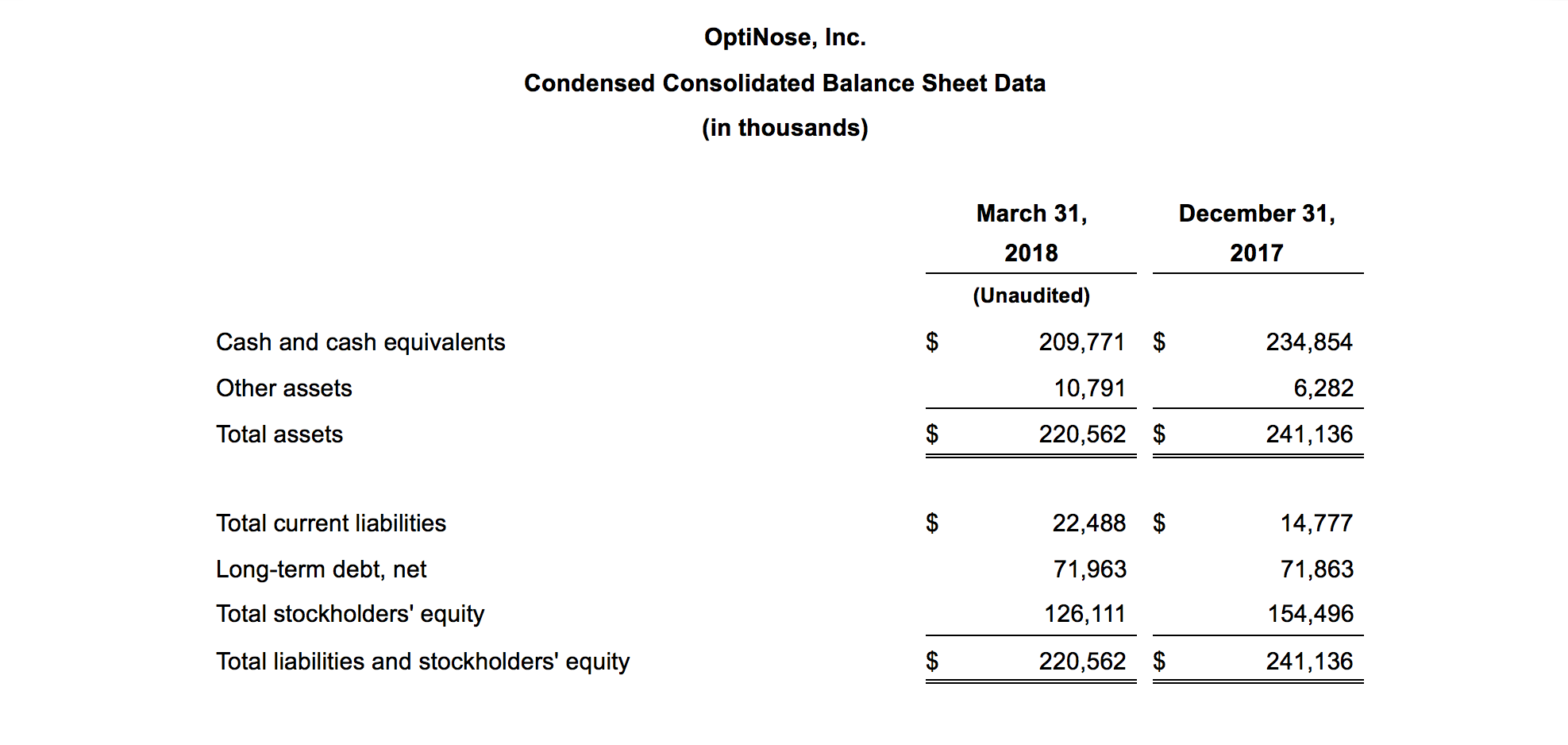 About Optinose
Optinose is a global specialty pharmaceutical company focused on serving the needs of patients cared for by ear, nose and throat (ENT) and allergy specialists. Optinose has offices in the U.S., the U.K. and Norway. To learn more, please visit www.optinose.com or follow us on Twitter and LinkedIn.
Cautionary Note on Forward-Looking Statements
This press release contains forward-looking statements within the meaning of the U.S. Private Securities Litigation Reform Act of 1995. All statements that are not historical facts are hereby identified as forward-looking statements for this purpose and include, among others, statements relating to the initiation and timing of a clinical program of XHANCE for chronic sinusitis; projected Company operating expenses for 2018; the adequacy of the Company's current cash and cash equivalents to fund operations and debt service obligations through the end of 2019; the potential benefits of XHANCE and the Xperience Program; and other statements regarding the Company's future operations, financial performance, financial position, prospects, objectives and other future events. Forward-looking statements are based upon management's current expectations and assumptions and are subject to a number of risks, uncertainties and other factors that could cause actual results and events to differ materially and adversely from those indicated by such forward-looking statements including, among others: the Company's ability to successfully commercialize XHANCE; physician and patient acceptance of XHANCE; the Company's ability to obtain adequate third-party reimbursement for XHANCE (market access); our ability to successfully commercialize XHANCE without the support provided by the Xperience program; market opportunities for XHANCE may be smaller than expected; uncertainties and delays relating to the initiation, enrollment and completion of clinical trials; unanticipated costs; and the risks, uncertainties and other factors discussed under the caption "Item 1A. Risk Factors" and elsewhere in our most recent Form 10-K and Form 10-Q filings with the Securities and Exchange Commission – which are available at www.sec.gov. As a result, you are cautioned not to place undue reliance on any forward-looking statements. Any forward-looking statements made in this press release speak only as of the date of this press release, and we undertake no obligation to update such forward-looking statements, whether as a result of new information, future developments or otherwise.
Optinose Investor Contact
Jonathan Neely
jonathan.neely@optinose.com
267.521.0531
Optinose Media Contact
Kate Traynor, Sloane & Company
ktraynor@sloanepr.com
212.446.1871